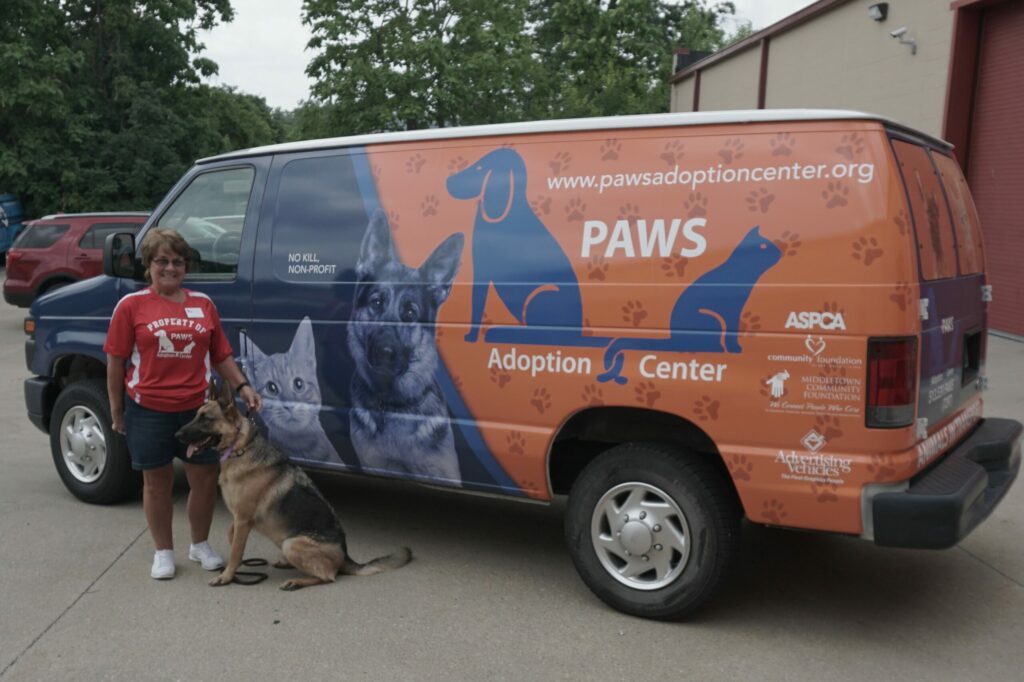 Back in 2012, Advertising Vehicles was proud to be able to help PAWS Adoption Center wrap their work van to promote their efforts, an important part of their awareness strategy and a great way to get exposure.
Now in 2021, we've done it again! This time with an astounding full wrap look, unlike anything else they've ever had. When the installation was all wrapped up, a few of the Center's key team members, including PAWS Adoption Center President Gail Corrill, came to visit the Advertising Vehicles Cincinnati office to look at the finished product. They also brought along some adoptable furry friends to meet the team that worked on the vehicle wrap. 
Because of the nature of PAWS and the cause they represent, we only charged them for the removal of their previous design and the 3M Vinyl material costs, Advertising Vehicles covered the rest!
About the Fleet Graphic
The wrap itself was a custom made, with assistance form the Advertising Vehicles Design Department who brought to life the image that PAWS was looking for. It features pets as the main focus, with the blue and orange elements taken from their website and a repeating paw-print design on the orange.
They gave our designer Jessi free reign to flex her creative muscles, saying she was most proud of the rear windows that make it look like the dog and cat were looking at the other drivers on the road.
Gail told us it was important to get a German Shepherd on the design, inspired by her own love for the dogs, and that can be seen on the driver's side.
About The Center
PAWS Adoption Center is an important greater Cincinnati organization that has saved the lives of over 13,000 pets since 1980. The facility itself  is located in Monroe. The team there is dedicated to providing care and shelter for unwanted dogs and cats, and placing them in loving homes. Learn more about PAWS Adoption center at https://www.pawsadoptioncenter.org/
Thanks again to PAWS for choosing Advertising Vehicles to be your partner for this project!