Offering a full-service fleet graphics solution requires many areas of specialized skill sets. From installation and removal experts to technology specialists, each plays a critical role in today's needs for timely execution. Fleet Design
One of those essential teams at Advertising Vehicles is the Creative Services department. They're a team of dedicated graphic designers, thoroughly skilled in bringing designs to life on the side of all types of vehicles and trailers, running the full gamut of different graphics needs. They are here, ready to help along every step of the way, even if it's just the last step.
"We have the expertise of understanding the trends in the market, as well as all of the technical ability," Kristi Vogel, Advertising Vehicle's Creative Director, said. "We have all of the templates that will clearly illustrate where obstructions are, and we really know how to get their brand to read openly and very bold out for our moving fleet vehicle graphics."
How we serve different sized companies and projects
We work with everyone from small businesses with one or two vehicles to large multinational corporations with enormous fleets. Everyone's needs are different.
It all starts with our creative brief process, where our teams ask our clients essential questions to get to know what they need and understand their design style at a deeper level.
"If they don't have any assets, created whatsoever, we can get to work starting with a branding package, developing logos colors, and start working from there forward to make their vehicle graphics stand out."
–
Ryan Black
Senior Graphics Designer
Or sometimes, what a project needs is production design work, where the team is tasked to correctly produce the provided artwork and creative details, ensuring other essential factors such as color accuracy and layout positioning. We have the right people and technology for even the most meticulous of brands to be satisfied with the end product.                                     Fleet Design
If clients come to us with existing design assets but not a final design, designers can quickly come around and have something ready for them to approve and get their vehicles road-ready.
"One of the most rewarding parts of my job is being able to go out there and see artwork that I've done for various types of businesses," Jessie Reinert, graphics designer, said. "Seeing my work on the road as I'm outgoing places, it gives me a sense of accomplishment to saying 'Hey, I did that!'"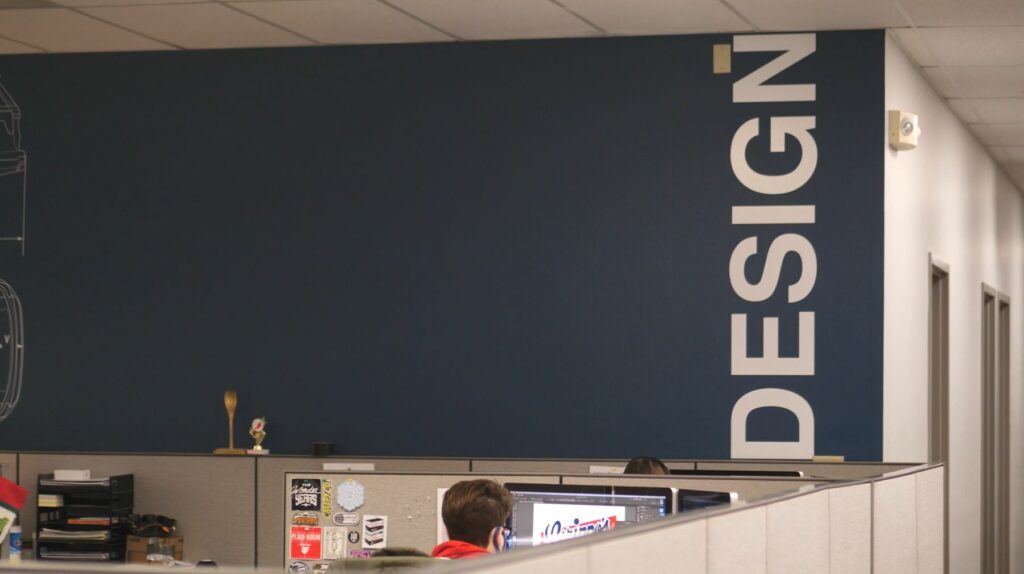 Our team has a strong background in design but creating vehicle and fleet graphics isn't something that they teach you in school.
All their experience is hands-on and real-world, and constantly growing.
"As the Creative Director, I really strive to bring not only motivation but a constant challenge to the team. I want them to be better by thinking harder, solving their own problems, really trying to dig deep and find that better-design to push creativity, all with keeping our client in mind."
That drive has encouraged our team to keep bringing their skills to the table every day, creating new designs that aren't just cookie-cutter templates but fit what the clients need, helping them stand out from their competition.
"We all very much depend on one another for inspiration and assistance anytime," Black said. "We are always there to lean on one another."
"Ultimately, we want to not just be better ourselves, but we want to help each other be better," Reinert said. "The bond that we have with each other on the design team I've found is very unique here."
People That Brighten America's Roads
Advertising Vehicles has stood apart from the crowd by focusing on creative quality and execution as a priority for nearly 20 years.
It's all made possible by dedicated creative people that decided to focus their passion on helping America's fleets look as impressive as possible, as they travel the billions of miles of our roads and highways.
It's good to know that there is a passionate team of out there making a difference in helping small businesses build their brands, and supporting large businesses by making sure their fleets look great no matter where in the U.S. their vehicles travel.