This month's Advertising Vehicles' Fleet Graphic of the month for January 2021 is Smyth Auto Parts, and their smart use of the Traxx™ changeable graphic system on one of their box trucks.  
Every month we will bring you a fleet graphic that exemplifies making the most out of a company's mobile billboard, and is a great representation of what is possible with the medium. Some will be beautifully custom designed graphics, while others are awesome uses of fleet technology.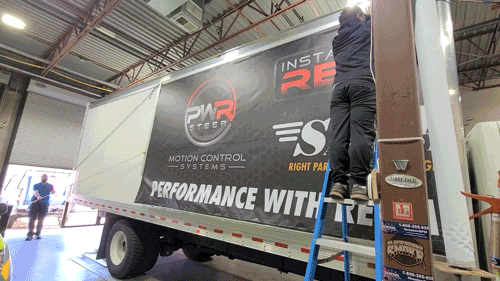 About Smyth Auto Parts
Smyth Auto Parts is a Midwest automotive aftermarket parts retailer that provides the expertise and skill of a national chain with the affordability of your favorite local auto parts store. They have gone from a locally owned auto repair shop to a privately owned company with 26 locations throughout Ohio and Kentucky over the last 50 years.

About The Fleet Graphic
While there is a lot to like about our featured graphic of the month one aspect to really recognize is that the box truck utilizes our Traxx™ system. This allows the client to have a rapid changeout solution for their fleet with long term cost savings and flexibility for the usage of their advertising space.
Using Traxx™ means that this specific banner can be changed for another graphic in under an hour! Saving on long term costs and allowing for a huge amount of flexibility in how the advertising space is used. Click here to learn more about Traxx™. 
What makes this graphic from Smyth Auto Parts really smart is that they were able to co-op the space of this banner with an innovative partner of theirs in PWR STEER and their motion control systems. This is just one of many possible partnerships and ways for suppliers and distributors to leverage their fleet graphics to benefit themselves and key partners, while offsetting costs and providing additional value.