Every year, Bud Light releases its limited edition NFL team packaging. This year, that Who Dey can just feels a little bit more special.
Advertising Vehicles has been a proud Fleet Graphics partner for Anheuser-Busch for the past 7 and a half years, and this year we had the honor of taking care of Heidelberg Cincinnati's Bud Light Kick Off Beer trucks.
This is the first time we've ever produced and installed these Bengals themed graphics for Anheuser-Busch, and we hope it brings them luck this season.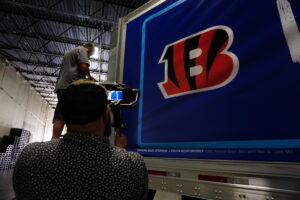 This truck is special as it features our premiere changeable graphics solution, Traxx. It allows our team the ability to install the large banners in a matter of minutes. When all's said and done, Heidelberg Cincinnati will have two trucks all kitted out with Traxx and Bud Light Bengals Graphics.
Those two will join the rest of Heidelberg's fleet of dozens of Traxx Banner equipped trucks.
We've put together this behind the scenes look at what goes into a Traxx install with Advertising Vehicles.
We went to Heidelberg's facility in downtown Cincinnati, first to install the frames for the banners. Once those are installed, and the banner is produced at our state-of-the-art graphics printing facility, we can just slide those in and hammer them in place. We also did traditional vinyl graphics for this design on the front and rear of the trailer.
All in all, the actual graphics install took just under three hours.
We're excited to see Heidelberg's truck driving around Cincinnati, showing off Anheuser-Busch's awesome Bud Light graphics, sporting their Bengal's Pride.