Advertising Vehicle's official Nonprofit Sponsorship Program could not have started with a better partner in Last Mile Food Rescue.
It is very easy to want to support an organization with a mission like theirs; to help end food insecurity by connecting Food Donors with those helping the food insecure.
And it takes a lot of moving parts to help them achieve that goal, and we here at Advertising Vehicles are happy to play our role in that, by working with them to craft the perfect concept and final product that turns their workhorse van into an effective brand awareness marketing campaign, helping to fuel their efforts.
About Last Mile Food Rescue
According to their stats, there are over a quarter million people facing food insecurity in the Greater Cincinnati area alone. To add insult to injury, 40 percent of the food we produce annually goes to waste.
At last mile, their goal is to end both by being a nexus point, getting that food that was going to be wasted, into the hungry mouths of those who need it.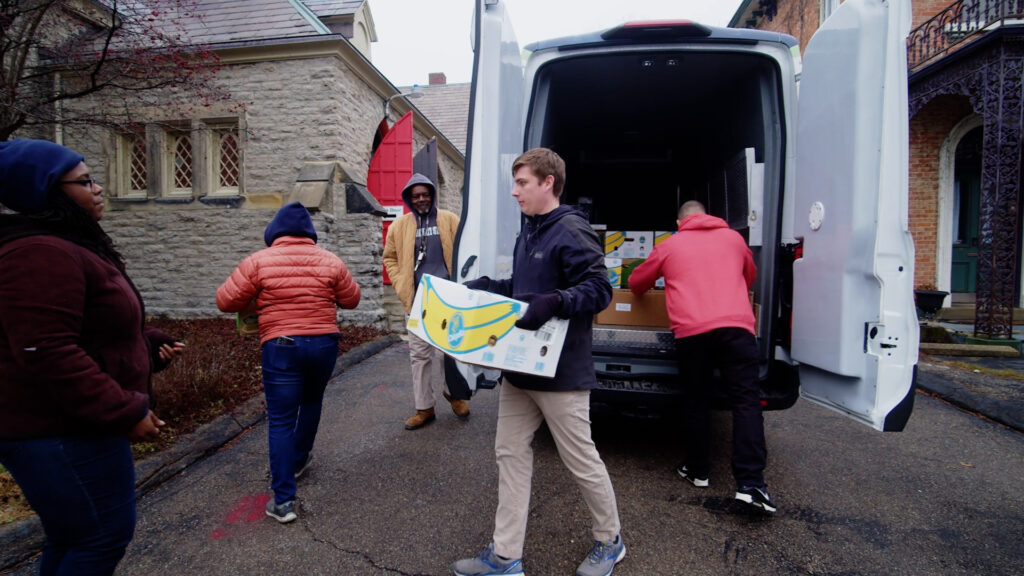 "The way we do that is we utilize the power of technology and a network of awesome volunteers," Aaron Moore, Market Manager at Last Mile said. "We've been in operation for just over two years. And in those two years, we've rescued over three and a half million pounds of food so far."
Last Mile has joined forces with food donors ranging from Duke Energy and Kroger to UDF and Trader Joe's. Through their app, Donors can notify them that there's food ready to be picked up and sent to someone who needs it.
Sometimes the pickups are small enough that one of their volunteers can pick it up and take it to a smaller location. But sometimes they have big food deliveries, so they need something a little extra.
Having a large vehicle allows them to do something that elevates their ability. They can take large food deliveries to one location where it could be best used.
"We're able to take that van to our mobile markets using our fresh food that we've rescued that day," Crystal Cottrill, Food Donor Relationship Manager said. "We can help a community that has perhaps a food desert, or a large quantity of individuals facing food insecurity, to be able to serve them food that they can eat that same day."
What was once a plain white van with magnets on the side has now been elevated thanks their partnership with Advertising Vehicles.
"It was really cool to see the transformation of our van, from just a plain white Ford Transit van into the finished product," Moore said. "It really adds a touch of class to our brand, gives us a lot of credibility and it also helps people know what we do every day."
Advertising Vehicles Support
As a part of the nonprofit sponsorship program, Last Mile had access to all the services available at Advertising Vehicles. We wanted to prepare them for success with their new vehicle as much as possible.
"We worked really closely with Advertising Vehicles to build the final product of the van, we sent them over a couple of our previous marketing materials, and kind of let them know what we were looking for in the general design," Cottrill said. "They were super helpful and pointed us in the right direction, giving us a couple of finalized designs to approve and move forward with."
At every step of the way we were there to convert their distinct brand into a stand-out vehicle graphic and expertly apply the vinyl to the van. It takes a close inspection to see that it wasn't painted on! Now their vehicle is finally a true representation of their importance in the community.
"We're a scrappy rescue organization that's only been around for two years, but to have that level of professionalism going into the communities I think is really going to be crucial moving forward," Moore said.
If you have a nonprofit that you would like for us to consider as a part of our Nonprofit Sponsorship program, feel free to apply here.