As the exclusive provider of fleet graphics for Anheuser-Busch brands, we work with beverage distributors across the country to make sure that, not only their trucks are all looking fantastic, but that AB has a cohesive look no matter where you see the design.
Today, we focus in on one of those distributors that, for decades, has exemplified excellent service in the Lexington region, Kentucky Eagle.
In the time we have worked together, Kentucky Eagle has made great use of fleet graphics, top-notch creative and has mastered the value of branding. Because of that, their fleet looks clean and professional every single day they are out there serving businesses. But they're in the process of changing things up.
"Typically, they have branded them with Anheuser Busch branding, Bud Light Seltzer, Budweiser, Bud Light," Jason Williams, one of our national account executives, said. "Now, they're trending towards branding many of their vehicles with their own Kentucky Eagle branding."
The Value of Self Branding
Self branding for U.S. beverage distributors has been a slow development.
Often a distributor's branding will consist 100 percent of product advertising for the products they drive across their market, often through co-opting or provided services. But as the distribution space has become crowded and businesses have more and more choices over their partners, being able to build a strong brand and community awareness proves valuable. 
The other added value comes from how the visuals solidify the company values and boost employee morale. Drivers and other team members seeing their own company touted on their vehicles can make all the difference. For Kentucky Eagle, that means leveraging their core slogans such as "Family Built. Locally Driven."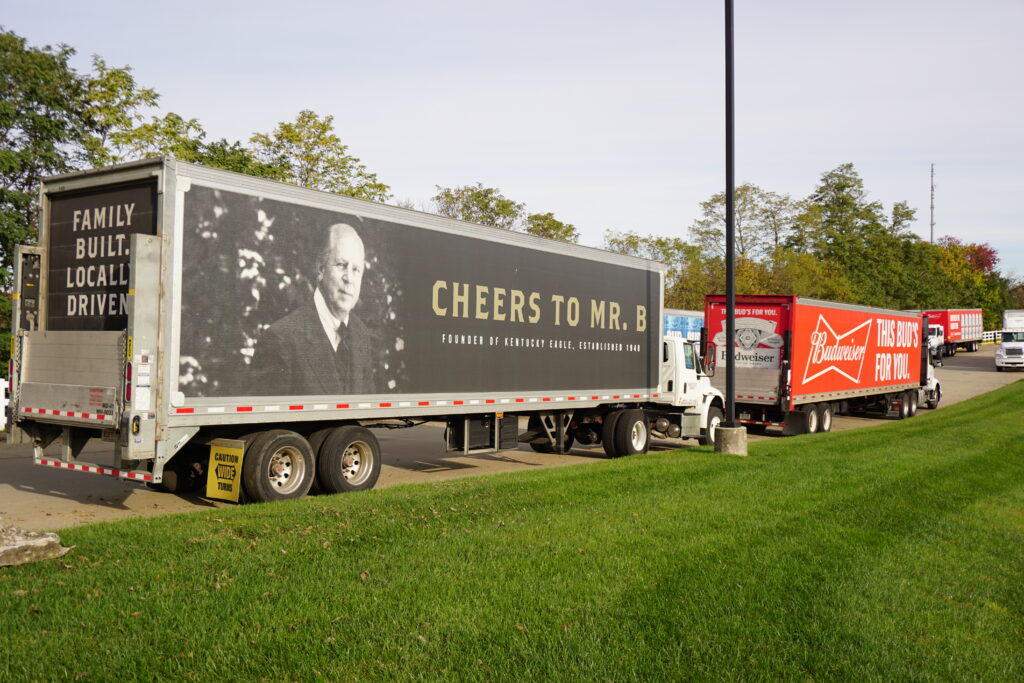 Kentucky Eagle has been in the Lexington area for nearly 75 years, they're an established local brand, and they distribute more than just beer. Their new look is meant to drive that point home across the market.
"The thing that we want from our fleet is to make sure that our image is out there in the public," Rusty Dyer, Vice President of Operations at Kentucky Eagle, said. "When we put graphics on our trucks, we want to make sure that everyone knows that we're Kentucky Eagle."
That's where the magic of Advertising Vehicles and the Traxx™ system comes in.
Changeable Graphics make branding easy
Traxx™ is Advertising Vehicle's changeable & reuseable graphics system, and Kentucky Eagle has been able to use it to the fullest, because it just makes things that much easier for them.
"In the old days when you were going to re-decal a trailer, you would use lose that equipment for two weeks at a minimum," Dyer said. "Now with Advertising Vehicles, we can have a vehicle out of service for one day and we'll have a whole new set graphics on our trailer."
We make the process as easy as possible.
In Kentucky Eagle's case, our installers went down to their garage, installed the frame system in a morning, freeing the truck up while the graphics themselves were being printed.
We then came back a couple of weeks later and slid the banner in. The truck was back on the road the next day.
"When you watch the installers come to your property and install a Traxx™ system, it's amazing," Dyer said. "You see this truck or trailer go from one brand to our Kentucky Eagle brand in a matter of hours, and moving forward if you want to change out graphics quicker, you can and you won't have to worry about losing that trailer for any length of time."
"There have been no issues, the best endorsement I can give for Advertising Vehicles is, if you've worked with a company for right at five years, and you don't have any issues, it's pretty amazing."
"Traxx™ affords you the flexibility to pretty much do whatever you want from a branding point of view," Williams said. "Whether it's an AB brand, or your own brand, or if there's an event going on, it gives your marketing and your creative people opportunities to kind of spread their wings a little bit in terms of coming up with something that's cool and innovative."
"no Issues" - hassle free fleet graphics
Overall, when working with Advertising Vehicles, you get the piece of  mind of knowing that you're in good hands.
Whether you're an Anheuser Busch Distributor or not we will make sure your fleet is the looks like a reflection of your company.
But don't just take it from us.
"When you're dealing with a new company, as Advertising Vehicles was for us four or five years ago, you always are skeptical of the customer service, the promises," Dyer said. "There have been no issues, the best endorsement I can give for Advertising Vehicles is, if you've worked with a company for right at five years, and you don't have any issues, it's pretty amazing."
Get in touch with us and see how Traxx™ can give you the leg-up in your branding.